A place for feeling...
¡Discover the secrets Colca has in store for you!
The flight of the condor
Watch how it flies over the Earth's deepest canyon, so close you'll want to touch it!
The Colca Valley
The Colca valley has much to offer. This region, among the mountains of the Western Andes in southern Peru, is a zone of superlatives. It has the world's deepest canyon. It is home to one of the world's largest flying birds - the condor. It is the habitat of the mammal that bears the world's finest noble fibre - the Vicuña. It has the highest chain of active volcanoes on the planet and, as though all that were not enough, some of the purest and oldest Peruvian ethnic groups: the Collahuas and the Cabanas.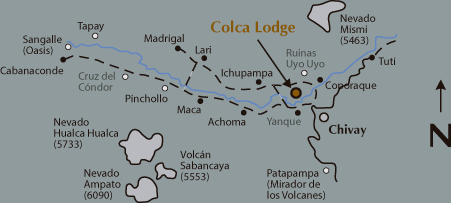 13 Colonial Churches
A colonial legacy in each village.
"I walked the 13 important churches in the Valley. I was impressed by its beauty. One more beautiful than the other."
Native culture and traditions alive
The real life of Andean villages.
The Mismi: 5,596 m.s.n.m.
The farthest font from the Amazonas river.